"We will open a great exhibition where domestic and foreign commercial vehicle companies participate."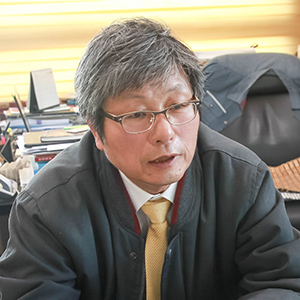 Organizing Committee Chairman, Lim Geun-Young Lim / Hosting the 'International Commercial Vehicle Exhibition'
DALIM Corp., is the largest special vehicle manufacturer in Korea, producing super low temperature tank trucks that can transport natural gas (LNG/CNG, LPG), various special vehicles and trailers.
Last year, CEO of DALIM, Lim Geun-Young who increased his reputation in domestic and foreign special vehicle industry as '다임폴라특장' which is former business name undertook position chairmanship of Korea Commercial Vehicles Industry Association and chairman of International Commercial Vehicles Expo.
Chairman Lim Geun-young has established an unparalleled area of 'super low temperature tank lorry' in the domestic commercial vehicle market and contributed greatly to the logistics transportation environment by producing various tank trucks and trailers.
In order to develop the best and largest special vehicle company in Korea targeting domestic as well as overseas markets, he sent himself or his employees to famous overseas commercial vehicle exhibitions to learn special vehicle business and advanced vehicles and technologies.
But he always felt that something was missing.
As a special vehicle maker for nearly 30 years, he has been always felt something's missing that there was no 'commercial vehicle space' that could bring together various vehicle manufacturers and customers in one place in Korea.
He came to the conclusion that the international commercial vehicle expo should not be delayed any longer, in a situation where the world's 5th largest automobile producer and a large number of world-class commercial vehicle brands have entered the market.
Because he thought that it will be a very unique and great opportunity that Korea Special Vehicles Industry Association where is the largest scale gathering for special vehicles and trailers in domestic country, ENC communications where is domestic unique news medium specialized in commercial vehicle and exhibition planning and other three companies hold International Commercial Vehicles Expo.
CEO Lim seemed to have a very strong will to make a history of Commercial Vehicles Expo in Korea.
We listened more specifically to Chairman Lim's thoughts on the expo.
Q.This exhibition is to raise awareness centered on buyers. What is the direction of promotion?
A. In the meantime, domestic exhibitions held in relation to commercial vehicles have only exhibited vehicles by manufacturers, and business connection with the buyer of the freight transport industry, has been sluggish.


However, International Commercial Vehicles Expo which will be completely different from the existing expos and newly held in Korea will allow truck owners and freight transportation companies to participate directly as individual or group.


Moreover, it will be a place for them to introduce about characteristics on vehicles safety, and convenience and efficiency to buyers and word-of-mouth marketing which is preferred by buyers when buying special vehicles will be actively driven.


Furthermore, we will be holding a safety technology seminar which automotive specialized institutions participate in order to enhance safety technology of manufacturers so there will be time for sharing technology between manufactuerers.

Q. What is the participation rate of the exhibition organized by Korea Special Vehicle Industry Association?


A. The domestic logistics transportation market is dominated by companies that supply special vehicles and trailers.


Including DALIM, Doosung Special Vehicles, Korea Trailer, ICP, Daihung Heavy Industries, Shinhung Precision Industry, Dongwoo Motor, Bogo Trailer, Myungsung Heavy Industries, etc are representative, and there are many others.


It is not an exaggeration to say that some of these companies literally took the lead in Korea Special Vehicle Industry.


In the commercial vehicle and truck market, there are a large number of companies that are renowned for its size and name.


Of course, I can't forget part suppliers.

I should keep watch over the final rate of participation, but a number of companies are already getting ready to participate as decided in the association
Q. What types of vehicles are you planning to mainly exhibit?


A. We are considering special vehicles based on cargo trucks.


For example, tank lorry, bulk lorry, bowser, camper van and van-type special vehicles.


Especially, the trailer, which can be said to be one body with the tractor would be a huge part.


Most of the association's member companies are specialized in trailers and specialized vehicles.


It is expected that the car models exhibited by these companies will be specialized or new car models or fancy car models will be exhibited by each manufacturer.


I want to keep the original purpose of a new, development-oriented expo and raise awareness on our company.
Q. You named 'International' on Vehicle Expo. Do you want to grow it at international level?


A. Yes. I want an expo where domestic companies can approach overseas market and vice versa.


Companies where produce special vehicles in Korea do not sell only to the domestic market.


While they're competing in the domestic market, they weight to developing overseas markets. It's for survival.

Considering this point, an exhibition limited to the domestic market could be meaningless


Exhibiting companies are deeply considering operational strategies to develop a trade show that aims to explore overseas markets.


As one of these plans, they are actively promoting the international commercial vehicle exhibition held in Korea to Southeast Asia, the Middle East, Africa, Europe, Japan, the United States, etc., and also considering events that invite overseas buyers.


There is also great anticipation for commercial vehicle companies that have already entered the domestic market. If you visit the HANNOVER event (IAA) in Germany, the world's largest commercial vehicle exhibition, you will see that global makers are all participating.


You can easily access European companies such as Volvo Trucks, Scania, Mercedes-Benz, MAN, and Iveco that have entered the domestic market, as well as Renault and DAF from Europe that have not yet entered.


Chinese trucks are also catching attention. The active participation of companies based in the Korean market is highly anticipated.
Hyundai and Tata Daewoo, as domestic companies are included. Hyundai is undoubtedly the largest commercial vehicle maker in Korea.


Recently, it has been accelerating the development of commercial vehicles that use hydrogen fuel cells.


The day when Hyundai's eco-friendly commercial vehicles are sold in the global market, especially in Europe, will come soon.


Tata Daewoo is also dedicated to eco-friendly trucks based on natural gas such as LNG. It has already reached the previous stage for commercialization.


Global-level import commercial vehicle companies that have entered Korea are achieving great performance. You can see their profitability if you look at the increasing market share every year.

Association member companies are fiercely competing for the same type of vehicle and market. Despite this situation, they have decided to actively participate in the commercial vehicle exhibition.


Visitors or customers will have the opportunity to make a rational evaluation of the products on display and have sufficient opportunities to choose.


I also want domestic and import commercial vehicle companies that lead the Korean commercial vehicle market to compete each other.


Whether it's a new product, technology launch event or a brand strengthening event, it will contribute to the development of Korea commercial vehicle industry.
I think that's what I should do for freight transportation companies and truck owners
Q. Organization committee of Commercial Vehicle Expo has been newly launched. Are there any company related to group of commercial vehicles or the completed commercial vehicle companies other than special vehicle industry association which decided to participate in?

A. First of all, all the completed commercial vehicle sales companies have already decided to participate


These companies are preparing vehicles that will attract a lot of attention during the exhibition period.
Since the exhibition organizing committee was launched a few days ago, various information and promotional materials are currently being prepared.


An article from a commercial vehicle specialist publication announcing a new commercial vehicle exhibition has led to inquiries from some completed commercial vehicle companies, and we have also received positive answers about participation.


The related companies applied for exhibition. From February, the organizing committee will begin in earnest.

If other commercial vehicle-related organizations or institutions participate, it will contribute significantly to the development of the commercial vehicle industry, which is highly desirable


Of course, if member companies participate on an organizational level, we can discuss on sufficient merits for participation.
Q. I think the promotion is the most important thing in planning an event. But I've never seen an event that performed that function well before.


That's why the commercial vehicle information company with strong media power in the domestic commercial vehicle industry decided to participate.


Commercial Vehicle Information, having a 20-year history, has both a regular publication and online media functions.


We're anticipating it. But we will not just stand by and wait.


We will distribute news articles from time to time. Expo information will be heard anytime. And we are planning to radiobroadcast.


I almost forgot. We will make function of marketing and promotion targeting overseas commercial vehicles.


To keep a 'long history' of International Commercial Vehicle Exhibition in Korea, it is necessary to have exchanges with overseas countries.


And E&C Communications, which has been working on exhibition planning for 20 years, will be actively promoting the expo and raising awareness towards the need to participate while touring the sites.


If necessary, the association will also not hesitate to take a part.



Q. Any words you would like to add?


A.  All members of the association take pride in playing a significant role in the commercial vehicle and truck market in Korea, maintaining a competitive yet cooperative relationship.
So, all members have willingly accepted the hosting of the exhibition.


As they exhibit by investing money, we will surely make them feel worth it.


We will do our best to achieve results by gathering domestic and international perspectives. We hope that commercial vehicle companies will actively participate in this initiative.


Economy always has been in bad condition. If that's the reason why participation is hindered, we need an active attitude to overcome the recession by actively participating and activating sales.


Every year, the domestic commercial vehicle industry visits famous overseas commercial vehicle exhibitions. I think it is the right time to invite them to visit us? It feels like it's too late.


Our wish is for the international commercial vehicle exhibition to take root in Korea with the understanding and active cooperation of commercial vehicle companies.


Source: Commercial Vehicle Newspaper, January 31, 2019
http://www.cvinfo.com/news/articleView.html?idxno=10105