Gas Safety Award-Packing Industrial] CEO of DALIM, Lim Geun-young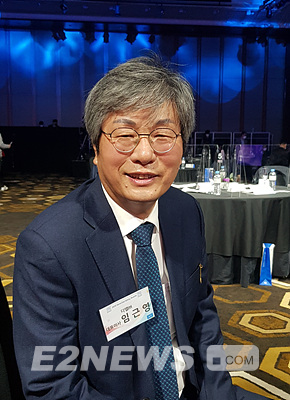 Contributing to accident prevention by focusing on manufacturing specific equipment for 27 years
Localization of vehicles for transporting super low temperature tanks, LPG bulk lorries, and LNG tanks
Actively developed consumer-oriented products to improve efficiency and safety
[E2News] "They have highly appreciated the time we have been focusing on the way of manufacturing specific equipment.
I think it is not just an award for me alone, but an award for all people working for gas who contribute to 'Korea's gas safety'.
I will take it as the meaning that I should strive for consumer safety through technology in the future and work harder."
CEO Lim, who has been working in the field of manufacturing specific equipment for 27 years since the establishment of 다임폴라특장 in March 1993 through technical cooperation with 폴라 of the United States, was honored with the industrial award at the 27th Korea Gas Safety Awards.
"We will have pride as a worker in the Korean industry and build a foundation for technology development that surpasses the world's leading companies based on localization achieved through ceaseless technology development.
Especially, in line with the hydrogen generation, we will take the lead in developing and distributing liquefied hydrogen tanks and LNG movable charging vehicles based on manufacturing technology of super low temperature tanks and transportation vehicles, contributing to the reduction of fine dust, that is a national issue."
When asked about his impressions of the award, CEO Lim said he will devote his passion to contribute to Korea becoming a hub of the gas industry by strengthening export networks followed by the Vietnam plant operation and consumer safety and gas industry development.
CEO Lim, who succeeded in localizing the first steel tank for oil transportation in Korea with an aluminum tank, and in 1998, localized the first vertical LPG small storage tank in Korea, has contributed to the development of the gas industry and accident prevention by producing and exporting various products such as super low temperature tanks, LPG bulk lorries, and small storage tanks through continuous R&D.
The achievement of exporting 50,000 vertical LPG small storage tanks of less than 2.5 tons is one of them that minimized the land area in the LPG equipment field where Japan produces better results than Korea.
For this achievement, he received the export top award for three consecutive years at the event of Export Day hosted by the Korea International Trade Association, as a result of export amount $1 million in 2001, $3 million in 2002, and $5 million in 2003 and he received the Presidential Award as an excellent export company in 2002 for his contribution to the development of the national industry.
It is evaluated that it has contributed to effective benefits for both gas suppliers and consumers, such as LPG sales operators with a production and distribution network that occupies about 40% of domestic small storage tanks and about 70% of LPG bulk lorries of 2.5 tons or less distributed in Korea and a guarantee of the high quality and safety.
And he was active for developing consumer-oriented products and transmitting data to the supplier through IOT-incorporated remote meter reading system which shows the remaining amount of the bulk lorry to secure the safety of consumer facilities and improve efficiency and safety through planned delivery.
Real-time data transmission is carried out by applying a measuring instrument to read the remining amount to a small storage tank, and through this, it is possible to always check abnormalities in consumer facilities.
CEO Lim succeeded in localizing an LNG tank transportation vehicle in 2003 along with production of super low temperature tanks such as argon and nitrogen, and supplied it to Korea Gas Corporation, opening the door of supplying natural gas to remote islands.
And he has been contributing to environmental issues, a national task, by localizing LNG containers, producing prototypes, and establishing a production system according to the conversion of diesel vehicles to LNG fuel caused by fine dust.
▲DALIM Factory in Hwaseong
DALIM where is operated by CEO Lim Geun-young, obtained an internationally recognized ISO 9001, 14001, ASME, and is registered as excellent company of KHK factory, having a system that meets global standards in quality, safety, and environment.
Since 2001, it has been operating an institute of technology for root companies, cultivating expertise and nurturing all employees as technology experts, and making a study group to help them to be qualified.
In addition, it provides employment opportunities and a place for training of technology to high school students through field trips as a defense industry registration company.
It guarantees employment after completing technical training for 7 to 8 individuals every year who hope to find a job, supports the acquisition of skills by giving an opportunity to participate in the production site of transportation vehicles for military purposes and accepts public interest volunteers to fulfill military obligations.
He is also positive in local volunteer activities and social contribution activities.
He is donating scholarships to the Korea LPG Sales Association Central Association every year, as well as providing continuous support to social welfare facilities, supporting goods for winter for marginalized groups such as the elderly living alone, free meal support centers with the city of Hwaseong.
This is why DALIM is evaluated as a model company where operates business with familial atmosphere.
Every year, they put in their best efforts to keep what they promised to their employees through the New Year's address, and all employees unite and take the time to visit domestic and foreign famous places every year for healing and fostering their motivation for achieving new accomplishments.
Visiting customers service are also being active.
In order to improve customer accessibility and convenience, the Jecheon Customer Center is operated, and it has been holding tour inspections and briefings by region in Jeju, Gyeongnam, Daegu, and Daejeon every year.
Accident response virtual training has been conducted more than once a year, such as discharge of residual gas during tank lorry opening inspection and safety management during manhole removal, and with an inspection agency specializing in specific facilities designated in 2017, it conducts the re-inspection work.
He also takes the lead in the joint development of the gas industry.
Chairman of the Special Vehicle Manufacturers Association, Special Member of the LPG Sales Association, Director of the Korean Gas Society, Member of the Accident Investigation Committee, Senior Chairman of the Gas Equipment Manufacturers Association, and Regular Member of the Specialized Equipment Inspection Association have been hosting golf tournaments since 2013 for the unity and coexistence of people working for gas.
CEO Lim, who regards "producing high-quality products through creative thinking, being a socially necessary company with inherent value, and having a sense of responsibility through voluntary participation of employees as a creed of life," is committed to continuing innovation in the safety sector as a professional company.
Source: ::: Global Green Growth Media – E2news (www.e2news.com)