DALIM, concluded of investment agreement with Gunsan-si and Saemangeum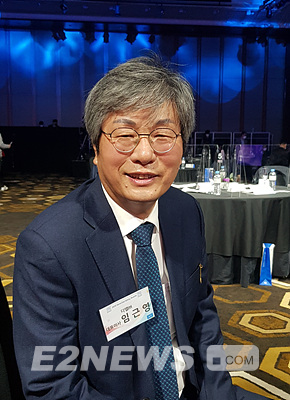 – Construction of a manufacturing plant for liquid hydrogen and liquefied natural gas containers and charging stations
– Expected to invest KRW 10.7 billion and create 70 new jobs in 2021-2022
DALIM (CEO Lim Geun-young) and the Saemangeum Development Authority (Director Yang Chung-mo) signed an investment agreement with Jeonbuk-do, Gunsan-si, Korea Rural Community Corporation, and Automobile Convergence Technology Institute on the 20th for 'liquid hydrogen/liquefied natural gas container and charging station manufacturing' in the Saemangeum industrial complex.
In agreement ceremony, CEO of DALIM, Lim Geun-young, deputy director of the Saemangeum Development Agency, Lee Seong-hae, Saemangeum Maritime and Fisheries Bureau director, Yoon Dong-wook, Gunsan-si vice mayor, Hwang Chul-ho, Director of the Saemangeum Industrial Complex Project at Korea Rural Community Corporation, Kim Woo-sang and Director of the Automotive Convergence Technology Institute, Lee Seong-soo have attended.
* We minimized the number of attendees and followed quarantine rules to prevent the spread of COVID-19.
DALIM plans to build a liquid hydrogen/liquefied natural gas container and charging station facility manufacturing plant by investing KRW 10.7 billion on a 34,000㎡ site in Section 1 of the Saemangeum National Industrial Complex, push ahead building the plant from 2021 to 2022 and hire about 70 new employees.
In addition, the reason why DALIM invested in Saemangeum is that it is expected to be easier to gain market dominance through collaborative projects with commercial vehicle manufacturers in Jeonbuk in the field of high-pressure gas for special purpose vehicles, as well as with research institutes and companies within the Saemangeum renewable energy cluster following the rapid growth of the hydrogen industry.
DALIM Co., Ltd. is a super low temperature tank trunk manufacturing company that succeeded in localizing the super low temperature mobile tank for the first time in Korea (December 1998) through technical cooperation with M1 ENG* of the UK.
Super low temperature tank truck of DALIM. is manufactured in a way that realizes excellent durability and minimal heat conduction by manufacturing a double or triple tank* like a vacuum bottle to prevent vaporization of super low temperature liquid.
* The most important performance of super low temperature storage tank is insulation. In order to increase the insulation performance, a multi-layer insulation film is applied to the tank and it is manufactured by super insulation method that creates a vacuum state.
CEO Lim said with strong aspirations, "DALIM will lay the foundation for the eco-friendly hydrogen vehicle industry promoted by the government in this field based on the manufacturing technology and experience of super low temperature liquid tanks for storage and move over the past 30 years, and plan exports related products to the world."
Deputy director of the Saemangeum Development Agency, Lee Seong-hae, said, "We welcome DALIM moved into the mobility cluster of the Saemangeum National Industrial Complex, and we expect that they will take the lead in the successful creation of a green hydrogen production cluster in Saemangeum" and added, "We will provide unsparing support so that they can grow into a leading company in the market."