CEO, Lim Geun-young. / DALIM 'Packing Industrial'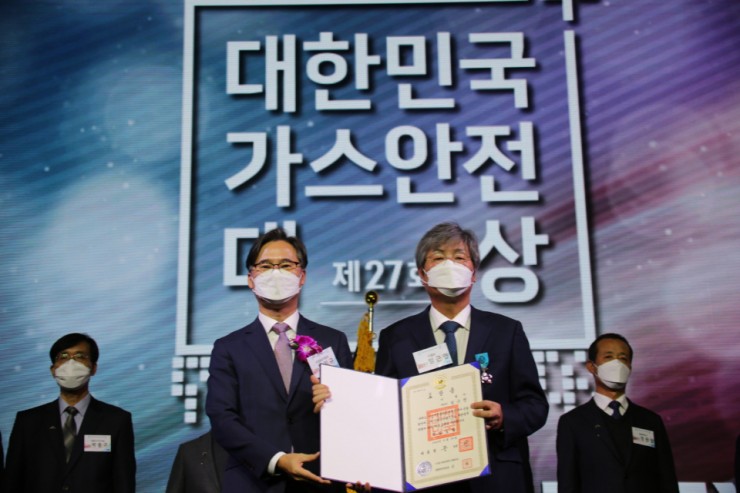 [Energy Daily – Reporter, Cho Nam-jun ] Lim Geun-young, CEO of DALIM was honored to receive the Industrial Service Medal at the 27th Korea Gas Industry Awards.
CEO Lim received an industry award and released a product that was localized by changing the existing tank to AI tank.
In addition, he was recognized for the contribution to minimizing the installation area and expanding overseas exports by localizing vertical type (vertical) LG small tanks for the first time in Korea.
We asked CEO Lim Geun-young to hear about his impressions of the award and future plans.
"It is thanks to the support of the executives and employees who have been working with us and the customers of domestic and foreign countries who have trusted and used our products that we won win the big prize of packing industrial."
At the 27th Korea Gas Industry Awards, Lim Geun-young, CEO of DALIM Corp., who won the prize of packing industrial said, "I sincerely thank you once again for this award" and added that "As we always have been, we will continue to make our best efforts to become a global partner in energy transportation and storage."
CEO Lim Geun-young is a master craftsman who has been focusing on specialized equipment manufacturing for 27 years.
Starting with the localization of aluminum tank for oil transportation for the first time in Korea, he was the first to localize a small LPG storage tank in a vertical form, contributing to minimizing the site area of the tank installation.
Lim also exported 50,000 vertical tanks (approximately 80 million dollars) by promoting exports to Japan while being faithful to the domestic market.
In addition to tanks, he also manufactured LPG bulk trucks, and has about 1,500 domestic sales so far.
"Small-sized LPG storage tanks and bulk lorries have brought about a big change in the domestic LPG distribution structure, and I feel rewarded that we have played a significant role," said CEO Lim Geun-young.
His constant research efforts for customer satisfaction have been integrated with IoT.
By checking the remaining amount of the storage tanks and contacting the gas supplier, he has improved efficiency and safety by opening up the path to safe and planned delivery and remote meter reading.
Especially, the company developed its own residual quantity meter (product name: Tongsori), satisfying the needs of customers.
He does not stop at producing and selling products, having taken the lead in gas safety by holding bulk lorry safety management technology seminars touring the country since 2011.
Furthermore, he is practicing disaster response virtual training for gas accidents annually to prepare for potential accidents and implement safety measures.
Since 2017, the company has designated a specialized equipment inspection agency to perform re-inspection tasks in a timely manner for the storage tanks, as part of the quality management.
He is also having a company's social responsibility, actively participating in activities such as helping disadvantaged neighbors and volunteering in the local community.
And he reinforced investment in the development of super low temperature tanks for liquid oxygen, nitrogen, argon, and LNG transportation tanks, supplied 600 LNG tank trucks to Korea Gas Corporation.
To prepare for the conversion of LNG vehicle fuel, he also developed LNG containers.
CEO Lim said, "There is no end to the development of technology for transporting and storing energy," and added, "The answer can be found in the actual field."
He emphasized that "it is our duty and mission as manufacturers to listen up to customers' opinions on site and develop and supply safer and more efficient products."
He highlights unlimited responsibility as a manufacturer, and now he is embarking on research and development for transportation and storage of LNG and liquefied hydrogen.
The company has completed the development of package technology for LNG mobile charging, in addition to the existing LNG containers and LNG tank trucks, and now is preparing for the first on-site installation.
And in preparation for the liquefied hydrogen era, he is accelerating the development of storage and transportation technologies.
CEO Lim said, "DAL has been accumulating expertise in super low temperature liquefaction technologies such as LNG (-162℃), liquid oxygen (-183℃), nitrogen (-196℃), and argon (-186℃), as well as LNG (-162℃) for nearly 30 years" and add that "It's not just theory that's important, but also the actual production and supply of products, as well as the accumulation of technology, that lead to the completion of new products."
And he also expressed his aspirations, "I will contribute to the development of the hydrogen industry by properly localizing the storage and transportation technology of liquefied hydrogen with a boiling point of -253 °C."
CEO Lim emphasizes that "companies can improve the completeness of their products through accumulated time for technological development." This is why his technological development in the field of liquid hydrogen is highly anticipated.
Source: Energy Daily(www.energydaily.co.kr)